Women Wept exhibition
This event has already taken place.
Monday 2 November 2015

to

Wednesday 18 November 2015
Three women, decades apart in age, will bring their arts practices together and collaborate on a project about women and the home front during World War I (WWI).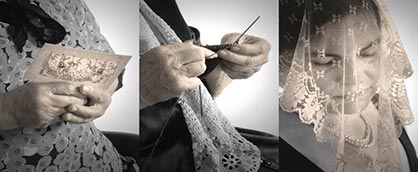 This project explores the stories of the mothers, sisters, brides and friends of the boys who enlisted. With no internet and no phones, how did they cope? What did they do with the terrible knowledge that their boys may never return from the other side of the world?
Karenne Ann and Tamara Watt, photomedia artists, and Heather Horrocks, textile artist, will look at war and its impact at home, both during and after peace was declared. Heather will invite women to join her in knitting socks from original WWI patterns as a way to explore family stories.
Funded by the Australian Government's Anzac Centenary Local Grants Program.
About the artists
Karenne Anne
Karenne Anne is a photo media artist who once lived in a town famous for its Avenue of Honour.
Through her art practice Karenne has previously explored the theme of 'Woman, Lipsticks and War'. Her paternal grandfather was a bomber in a plane shot down over New Guinea.
Karenne inaugurated the City of Maribyrnong's F5 photographic project, where five photographers over a five year period photograph the same five locations in Footscray, thus tracking how the city is changing, through five different pairs of eyes. Karenne will use a mix of multimedia techniques to interpret the imagined lives of women in wartime.
Heather Horrocks
Heather Horrocks is a crafter & maker of things. She was born 30 years after WW1 but only a year after WW2 ended. Her paternal father & grandfather served with the RAAF in WW2. Her Dad was named for his uncle Leonard who died in France in 1917, aged 19. Leonard's mother, Heather's great-grandmother, wrote to the Minister for Defence about him.
Heather will teach women how to knit socks from original 1915 patterns, and by knitting in conspicuous places, sometimes on important war-time anniversaries, she wants to draw out hidden histories from people of all ages and backgrounds.
Tamara Watt
Tamara Watt is an arts project manager and photo media artist. Born in Werribee of Italian and Dutch parentage, she is learning about WW1: Point Cook had an internment camp for enemy aliens, some men didn't return to their families after overseas service, and a relative felt she had to lie about her origins, saying she was from Belgium, not Germany, for safety's sake.
Tamara explores a range of techniques in her artwork, with a unique interest in capturing the mystery hidden in reflections.
Tamara will curate all Women Wept exhibitions.
Footscray University Town events & activities
This is one of a range of Footscray Uni Town events & activities brought to you as part of the ongoing Footscray University Town partnership between VU and Maribyrnong City Council.
Join the VU at MetroWest mailing list to receive regular updates about upcoming events.
When?
This event has already taken place.
Exhibition dates: 2 – 18 November
Artist talk: Wednesday 11 November, 11am – 12.30pm (with 1 minute silence at 11.11am)
Exhibition gala: Friday 13 November, 6 – 8pm