The Poetry Bus - Rotunda on the move
This event has already taken place.
Come for a ride on the 6th annual Poetry Bus - part of Rotunda in the West: Conversations with Creative Australians.
Pack your picnic hamper, picnic blanket and torch or lantern, and hop on a double storey bus. We will travel to mystery places (even the poets don't know the destinations). You will be serenaded by poetry in the penumbral light of autumn at Westie places around water or piers or sand dunes.
The bus runs in all weather conditions. Bring your hats, coats and umbrellas too if the weather looks a little mischievous!
Poets
Kristin Henry has published five collections of poetry, a verse novel and two non-fiction books. She has been shortlisted for the NSW Premier's Award, and she has read and sung her work at festivals and venues around the world. She is synonymous with the poetry bus.
Maurice McNamara has been involved with the Melbourne spoken word scene for a number of years. His writing is casually lyrical, funny but serious, and aims for a spare, contemporary feel. His book, Half-Hour Country, has just been published by Small Change Press.
Kristin and Maurice's poetry books will be available for sale on the bus.
The poetry bus is brought to you by VU's Professional Writing and Editing program.
Cost
$20 or $15 (concession)
RSVP
Book your spot early as places are limited. Email [email protected] to RSVP.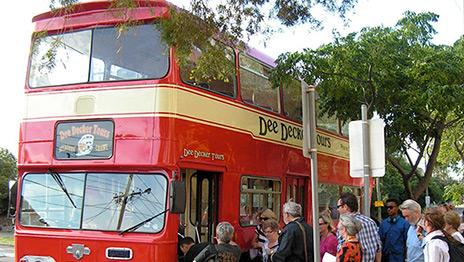 When?
This event has already taken place.
7 March 2014,

5:30pm

to

10:00pm