Game Changers: Green is Good
This event has already taken place.
Join us for the next Game Changers conversation – a stimulating panel discussion exploring the social and economic benefits of environmental initiatives to build a greener Melbourne's west.
The event will focus on local government and industry innovation and action to bring about change. Anne Barker, Managing Director of CityWest Water, will lead the panel discussion.
Ian Shears will discuss the role of private space greening in contributing to a green and resilient city and a legacy for future generations of Melbournians.
LeadWest's Chief Executive Officer, Craig Rowley will discuss the social and economic benefits of planting One Million Trees in Melbourne's west.
As Manager of Urban Design at Brimbank City Council, Adrian Gray will discuss the new green vision for the Brooklyn Industrial precinct, part of the Council's strategy to transform the public realm in the Brimbank municipality.
Katarina Persic, Public Affairs Manager at Toyota Australia, will talk about the Toyota Community Foundation and the Toyota Green legacy project.
Roger Jones will present the business case for Greening, building on his involvement in environmental projects in Melbourne's west and his extensive experience in applied research in climate and natural hazards risk management and environmental economics.
About the speakers
Anne Barker, CEO, City West Water (Panel Chair)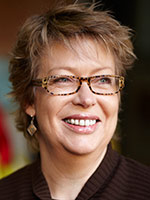 Anne Barker graduated in law from the University of Melbourne and after 12 years in legal practice took up management positions at Myer Stores Ltd, then ANZ Banking Group Ltd, and later Executive Manager of the Commercial/Reset Team at SPI PowerNet Pty Ltd (then Victorian electricity transmission network owner). Anne was appointed Managing Director of City West Water Ltd on 6 November 2002.
In these positions Anne has had a range of experience including leading an organisation through times of significant change, running a business delivering an essential service to a large residential and industrial customer base, economic regulation, cost control and consumer protection.
Anne is currently Chair of Whitelion and Open Family Australia and a Director of Water Services Association of Australia.
Ian Shears, Manager, Urban Sustainability, City of Melbourne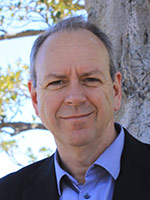 Ian Shears leads the City of Melbourne's climate change adaptation program for urban landscapes. Over the past four years, Ian and his award winning, multi-disciplinary team have delivered a $40 million climate adaptation program focused on strategic green infrastructure interventions in the public realm. This work includes increasing the city's permeability and urban forest to enhance cooling and mitigate urban heat island impacts, increasing green space and developing a set of stormwater harvesting schemes to reduce reliance on potable water.
Engendering community participation is a core focus of Ian's work. The community's role in collaborating to adapt the city to climate change and to develop a legacy for future generations of Melbournians is critical.
Ian and his team have also been credited with the development of some of Australia's most progressive environmental policies at a city level including the Urban Forest Strategy and Open Space Strategy. His current policy research focuses on understanding the health and economic benefits of green infrastructure, biodiversity and ecology in cities, integrated water management, urban heat island mitigation, the impacts of climate change and catalysing green roofs and walls.
This progressive approach to adapting our city to future climate change was awarded the AILI Victoria Medal 2014, the Adaptation and Resilience Award at the C40 and Siemen City Climate Leadership Awards 2014, the Best Specific Environmental Initiative for Local Government 2013 by the United Nations Association of Australia at the World Environment Day Awards and was also awarded the inaugural Climate Change Adaptation Award by the Banksia Foundation at the 25th Banksia Awards.
Craig Rowley, CEO, LeadWest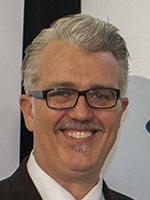 Craig Rowley has a degree in Psychology and a background in organisational development, business performance improvement and strategic planning.
Over the past 25 years, Craig has worked with organisations in both the public and private sectors and in a diversity of industries, including engineering, construction, financial services, local government and regional advocacy. As well as serving the communities of Melbourne's west through his roles with LeadWest, Craig is the Chair of the Ravenhall Prison Project Community Advisory Group, Chair of the Gellibrand Stronger Communities Grant Programme Community Advisory Group, the Treasurer of Western Melbourne Tourism, and a member of the steering groups for the Better Health Plan for the West, the Sons of the West Men's Health Program, the Brimbank Social Justice Coalition, and the Brimbank Learning and Employment Steering Committee.
He is also a member of the Community West Community Consultative Committee, the Melbourne's West Economic Response Taskforce, the Metropolitan Transport Forum, the Western Transport Alliance, Jemena Electricity Customer Council, Creative Victoria's Advisory Assessment Panel, and the Western Bulldogs Football Club.
In recent years, he also served as the Chair of the Board of YouthNow and on the Committee of Management for the WynBay Local Learning and Employment Network and Arts Victoria's Arts Advisory Assessment Panel.
Katarina Persic, Public Affairs manager, Toyota Australia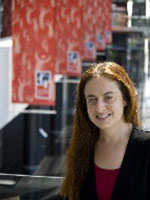 Katarina Persic is Public Affairs Manager at Toyota Australia where for the past nine years she has developed the Toyota Community Foundation as the vehicle for Toyota's community giving in Australia.
The Toyota Community Foundation is working on projects that will benefit the community as they exit the manufacturing of cars in Altona.
Adrian Gray, Manager, Urban Design, Brimbank City Council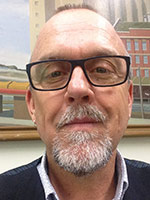 Adrian has practiced as a landscape architect in Japan and Australia in both private and public sectors and exclusively in the public sector since 2002.
He is the current chair for the Greening The West Steering Committee and two public sector landscape architect groups within the Australian Institute of Landscape Architects, at a national and state level.
Since 2008 he has been involved in the transformation reshaping the public realm in Brimbank.
Professor Roger Jones, Professorial Research Fellow, VU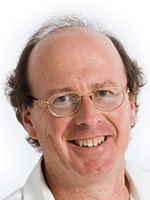 Roger Jones is a Professorial Research Fellow at the Victoria Institute for Strategic Economic Studies (VISES) at Victoria University.
Roger leads a small research team undertaking projects in climate and natural hazards risk management and environmental economics. The team applies a transdisciplinary approach bridging science, economics and policy.
He previously worked for Australia's CSIRO for 13 years, developing methods for climate risk assessment. Qualified in earth science, he has since worked on urban ecology, been a museum curator and technical essayist, public radio host and researcher working on past, present and future climates and their impacts.
Register
This is a free event.
About the Game Changers series
The Game Changers Conversation series presents pivotal ideas, personalities and moments in Australia's evolving story for public discussion and debate.
It is a project of the Footscray University Town initiative. Victoria University and the Maribyrnong City Council have embarked on a long term journey to revitalise Footscray as a university town; harnessing the strengths of the University and the City for the benefit for local communities and VU staff and students; in a way that contributes to a vibrant social and economic future for Footscray.
The events are free and open to the whole community.
When?
This event has already taken place.
12 October 2015,

6:30pm

to

7:45pm