Game Changers: Being Heard
This event has already taken place.
Wednesday 21 September 2016
What is the future of music in Footscray? In this rapidly growing municipality, how will music play a role in the future landscape of Footscray?
A panel of music industry experts, featuring personalities from the radio, music festivals, record label industries, policy makers and venue managers, will explore opportunities, challenges and hurdles for emerging musicians and producers.
This conversation will cover everything from running a tour, pitching your ideas, seeking feedback and promotional avenues, and the issues and opportunities related to getting heard in a saturated market. It will also explore how other areas of Melbourne have approached growth, gentrification and a growing music scene.
Chaired by Adrian Basso, 3PBS General Manager and featuring:
Kirsty Rivers - Manager Contemporary Music, Creative Victoria
Patrick Donovan - CEO, Music Victoria
Jim Lawrie - Musician
The evening will feature performances by Victoria University students:
Speakers
Adrian Basso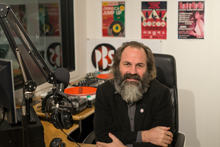 Adrian Basso is General Manager of community radio station PBS 106.7FM. Since 1979, PBS has been a key player in Melbourne's music community – with more than 80 specialist music programs ranging from soul to garage to country to jazz – PBS is dedicated to nurturing, inspiring and championing Melbourne's diverse music community. He was until late last year, National President of the community broadcasting peak body, Community Broadcasting Association of Australia, which represents more than 350 radio stations, reaching 29% of all Australians weekly. Adrian's previous roles have also included Business and Development Manager at classical music station 3MBS and Victorian State Manager of the Australian Business Arts Foundation.
Kirsty Rivers
Kirsty is the Manager, Contemporary Music at Creative Victoria where she manages and develops the Music Works initiatives. Prior to her role at Creative Victoria, Kirsty was the Writer Services National Manager at APRA AMCOS for 17 years and had various roles in the recording industry. She was the founding Vice Chair of Music Victoria and currently serves on a variety of not for profit boards including PBSFM. Kirsty has a wide experience in grants management and delivery both as a provider and recipient of small and large grants. When at APRA AMCOS, Kirsty also ran the APRA AMCOS Music Grant unit and has received and acquitted funding from bodies such as The Australia Council and The Office for the Arts as well as local council and smaller funding bodies.
Patrick Donovan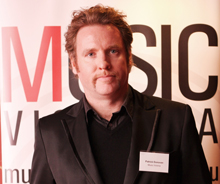 Patrick Donovan was appointed CEO of Music Victoria, the peak body for contemporary music, in 2010. This followed a 15 year career at The Age newspaper where he was chief music writer for 12 years; wrote the local Sticky Carpet music column; and interviewed artists from Nick Cave to Bob Dylan, Patti Smith, David Bowie and Lou Reed. In his time at the Age, he founded and ran The EG Awards and started the campaign to name a street in honour of AC/DC which led to AC/DC Lane. He tour managed Iggy Pop in 1998, played in a band, and DJed. He is currently a member of the Victorian Live Music Roundtable and is on the board of the National Film and Sound Archive.
Jim Lawrie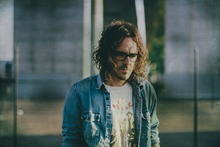 Following the release of his AIR Award nominated album, 'Eons,' Jim Lawrie has toured his unique heartbreaker songwriting extensively, with the likes of Marlon Williams, and Tinpan Orange, and also hitting the festival circuit including the Falls/Southbound Festival Tour of 2014/15 and Boogie 2016.
Jim's capacity for both soaring rock n roll and fragile sincere solo performances has captivated audiences around the country, some hailing him as "Australia's anser to The War on Drugs," others drawing comparisons to Niel Young and Paul Kelly.
Performers
The Shifties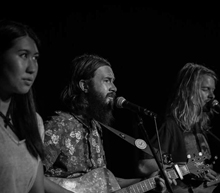 The Shifties explore some of the tones of 70s country while dragging them into the psychadelic. Singing together with a soul like a hammer in your cornflakes.
You can listen to their music on BandCamp.
William Elm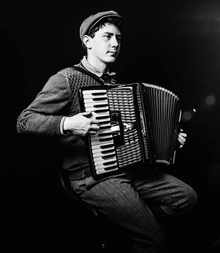 William Elm is a performer, composer, and multi-instrumental wunderkind. From ambient accordion soundscapes to driving piano austere pieces, Elm proves that he is a composer with tenacity, massive potential, and virtuosity beyond his years. With a sound that's influenced from the minimalists and experimental to the folk pop world, they have shared the stage with the likes of Amanda Palmer, Brendan Maclean, Mama Alto and Kate Miller-Heidke, and have self-produced over 3 EPs and a debut record. This year has seen William release his debt album 'Metamorphica' as well as present two works at Melbourne'e Fringe Festival, including a queer chamber cabaret, and an 8 hour improvisation presented by Arts Centre.
You can listen to William's music on BandCamp.
About the Game Changers series
The Game Changers Conversation series presents pivotal ideas, personalities and moments in Australia's evolving story for public discussion and debate.
It is a project of the Footscray University Town initiative – a partnership between Maribyrnong City Council and Victoria University that sees education, jobs, creativity and opportunity at the heart of the future of Footscray.
Registration
The events are free and open to the whole community.
When?
This event has already taken place.
Wednesday 21 September 2016
Pop-up bar: 5:30pm
Conversation: 6:00pm-7:30pm