Dean's seminar series: Police prosecutions
This event has already taken place.
Please join us for the upcoming seminar in the College of Law & Justice Dean's Seminar Series: Police Prosecutions Division, Now and the Future.
The presentation will be delivered by Superintendent Spiros Kalliakmanis, Prosecutions Division, Legal & Prosecutions Specialist Unit - Victoria Police.
With a graduate background in Police Studies and Industrial and Employee Relations, Superintendent Kalliakmanis commenced his career with Victoria Police in 1988. He performed duties across a variety of policing fields including frontline policing, training and prosecutions. In 2000 he was promoted to Sergeant at the Disciplinary Advisory Unit at the Ethical Standards Department and subsequently to Senior Sergeant 3 years later at the same Unit. In 2006 he was promoted to Inspector at the Human Resource Department and subsequently returned to the Prosecutions Division as the Divisional Superintendent in 2009.
In his time as the Divisional Superintendent, Superintendent Kalliakmanis has been the key driver of significant change and improvement to the Prosecutions Division.
Superintendent Kalliakmanis is currently developing a re-organisation of legal resources within Victoria Police with the aim of establishing a broad legal services operating model.
Register
A light lunch will be provided prior to the start of the seminar.
Please contact pam.barnes@vu.edu.au to register for the seminar or if you have further questions.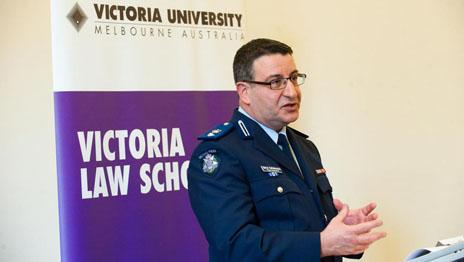 When?
This event has already taken place.
4 August 2016
Light lunch: 12.30pm
Seminar: 1pm - 2pm