Could you explain your thesis in 3 minutes?
This event has already taken place.
Victoria University's brightest graduate research students will be competing in the final of the VU Three Minute Thesis (3MT) on 4 September 2015.
The 3MT competition is an annual research communication competition that tests research student's capacity to effectively explain their research in three minutes in appropriate language for an intelligent but non-specialist audience.
The VU 3MT Heats were held on 7 August 2015. Judges and the audience were impressed by the 10 Victoria University research students competing for a place in the final.
Professor Anne-Marie Hede, Acting Dean Graduate Research, who chaired the judging panel, said that this year's presentations were extremely high quality.
A full list of the 10 competitors heading to the 3MT VU Final is available on the VU 3MT website.
Event details
Friday 4 September 2015 at Footscray Park Campus, L114.
Doors open at 1.45pm and the event will commence at 2pm.
All staff and students are invited to attend!
Please RSVP for catering purposes by Friday 28 August using the online form.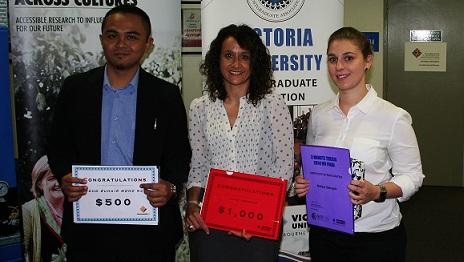 When?
This event has already taken place.
4 September 2015,

2:00pm

to

5:00pm