Find out about the latest learning and teaching news and events at Victoria University (VU).
Current news & events
Congratulations to Ms Kathleen Raponi Senior Law Lecturer in the First Year College and Dr Gayani Samarawickrema Senior Lecturer Connected Learning for receiving a 2022 AAUT Citation for Outstanding Contributions to Student Learning.
Read more about their win.
Day 1: Tuesday 6 December, 12:00 - 4:30pm
Day 2: Wednesday 7 December, 9am - 1:30pm
Last year, VU hosted a successful Learning and Teaching Symposium, in a hybrid format of virtual and in-person live streamed presentations.
This whole-of-VU event split over two days, showcased our newly opened VU City Tower. The program featured a thought provoking and insightful keynote address by Professor Patrick McGorry AO on youth mental health as well as two engaging and inspiring panels and themed presentations.
View the Recordings (VU login required)
Location: VU City Tower (T1516) - Monday and Tuesday
                 Footscray Park (A202) - Wednesday and Thursday
Time: 9am to 4pm
VU Collaborate Help provides support and guidance in the practice of blended learning and VU's Learning Management System (LMS) VU Collaborate, including help guides, tips and tools.
If you are completely new to VU Collaborate, start with the VU Collaborate new staff checklist.
For help with VU Collaborate, we offer:
drop in days
online consultations
workshops.
See VU Collaborate training to book in for help sessions. If you have any technical issues, please contact the IT Service Desk.
Past news & events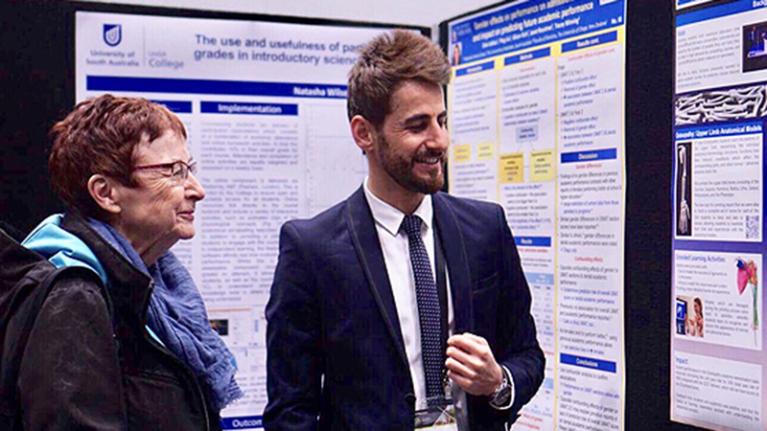 Ghaith Zakaria with the award-winning poster at HERDSA 2018.