Find out about the latest learning and teaching news and events at Victoria University (VU).
Current news & events
Day 1: Wednesday 29 September, 12:30 - 3:30pm
Day 2: Thursday 30 September, 9am - 12:30pm
Last year, VU hosted a successful virtual Learning and Teaching Symposium, attracting over 500 registrations.
In 2021, we will again provide you with a whole-of-VU event, and planning is underway for a hybrid format of virtual and on-campus presentations split over two days. The program will feature a keynote address, panels, Q&A sessions and themed presentations.
This symposium is an important event, providing an opportunity for staff to examine our distinctiveness and innovation in the Australian education sector and connect and learn from each other in these rapidly changing times.
For more information and regular updates see the events page.
The Learning and Teaching induction is an active and engaged three-hour session for permanent, sessional and contract staff. Facilitated by VU Block Model teaching experts, it explores learning and teaching in block mode, marking and assessment as well as the culture and philosophy that underpins it.
Who should attend?
The sessions are suitable for any permanent, sessional or contract staff new to Victoria University.
Virtual session details
See table below for dates and times. 
To register, click the appropriate link in the registration link column.
Week 4 sessions
Please note that sessions may be cancelled if there are insufficient registrations. Registrants will be notified by email at least two days prior should a session be cancelled.
Please refer to Learning & Teaching induction for the full schedule of upcoming inductions.
Date: various dates
Location: multiple campuses
VU Collaborate Help provides support and guidance in the practice of blended learning and VU's Learning Management System (LMS) VU Collaborate, including help guides, tips and tools.
If you are completely new to VU Collaborate, start with the VU Collaborate new staff checklist.
For help with VU Collaborate, we offer:
drop in days
online consultations
workshops.
See VU Collaborate training to book in for help sessions. If you have any technical issues, please contact the IT Service Desk.
Past news & events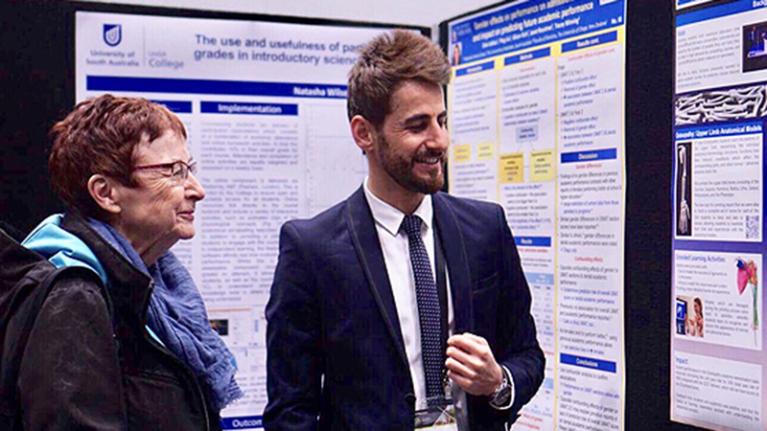 Ghaith Zakaria with the award-winning poster at HERDSA 2018.