Summary of latest learning and teaching news and events.
Current news & events
Victoria University staff, students and friends are invited to meet the global pioneer and force behind Block Model teaching and learning, Professor David Helfand. 
Professor Helfand has reimagined 21st century tertiary education and his thinking inspired The VU Way, where the revolutionary Block Model is seeing pass and retention rates soar. 
Chair of the Department of Astronomy at New York's Columbia University and former President of Quest University, Canada, this is a rare opportunity to hear the international thought leader explain why VU's Block Model is the 'New Way To Do Uni.'
Event details
Just focus! The joys & challenges of teaching on the block
The modern human condition is defined by interruptions. The average 18-24 year old consults his or her cellphone 86 times per day (5 times per waking hour); the top 10% (yes, many students) touch their phones 5400 times per day. This behaviour is fundamentally incompatible with learning. Carving out islands of tranquility in these hectic days and focusing on a single subject for weeks at a time is transformational.
Professor Helfand will recount the history of intensive, single-subject teaching, review the literature on its results, and describe the profound learning experiences that block teaching can produce, along with the operational advantages (and disadvantages) it provides.
Date: Tuesday, 11 June, 2019
Time: 6 - 7.30pm (arrive 5.30pm for refreshments)
Where: City Flinders Campus, Level 11, 300 Flinders Street, Melbourne
Call for abstracts now open!
We invite abstract submissions from all Victoria University and Polytechnic staff, as individuals or teams. We aim to present a balanced program with representation from all Colleges and Departments.
Three presenters (maximum) is preferred for showcase presentations.
The involvement of students to support presentations is strongly encouraged.
Submissions (300 words maximum) should be submitted by Monday 15 July 2019. 
Abstracts will be peer-reviewed by staff from across the university, and notification of the outcomes of the review process is expected during August.
Submission process
Please submit your abstracts to Easychair by Monday 15 July 2019.
More information
For more information see the 2019 Learning & Teaching Symposium intranet page (requires login when off-site).
Date: various dates
Location: multiple campuses
VU Collaborate Help provides support and guidance in the practice of blended learning and VU's Learning Management System (LMS) VU Collaborate, including help guides, tips and tools.
If you are completely new to VU Collaborate, start with the VU Collaborate new staff checklist.
For help with VU Collaborate, we offer:
drop in days
online consultations
workshops.
See VU Collaborate training to book in for help sessions. If you have any technical issues, please contact the IT Service Desk.
Past news & events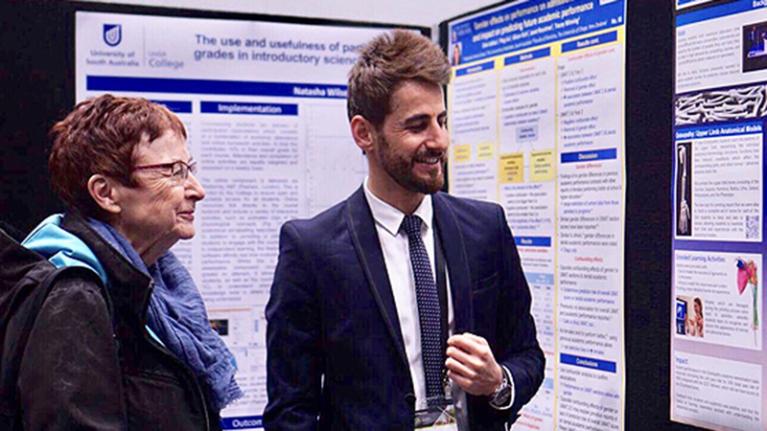 Ghaith Zakaria with the award-winning poster at HERDSA 2018.