The Interprofessional Clinic is a purpose-built clinic that will provide interprofessional health services and clinical training for students across the 9 health discipline courses at Victoria University.
The clinic will facilitate and lead collaborative practice to support clients/patients, carers and their families in their journey to improve their health and wellbeing. Victoria University continues to work with key stakeholders and the community to share our understanding of the health needs of Wyndham. This will ensure we support and provide integrated health services that are individualised, responsive and complementary to existing health and community services.
About the Clinic
The Interprofessional Clinic will be a health and community service that provides services to the community and interprofessional learning for VU health science students. In doing so it will develop collaborative health practitioners who can work together effectively to provide interprofessional care or services while still developing their discipline-specific professional identities. The Clinic is committed to a client-centred approach and to ethical practice where the client lies at the centre of health service provision.
At the Clinic, consumers are placed at the centre of service delivery to maximise their opportunities for accessing the services they need within the Clinic and from external service providers. Students will gain the experience of working in a cohesive and coordinated way to provide clients with seamless and integrated health care.
If you would like further information regarding the Victoria University Interprofessional Clinic please email the Clinical Director at andi.jones@vu.edu.au or contact the clinic on +61 3 9919 2228. Find out more about the range of services provided.
Clinical Director
Andi Jones, Office of Pro Vice-Chancellor Industry, Community and Sport Engagement.
Andi has over 20 years' experience developing and implementing health and community services, both in Australia and overseas. He has experience managing a diverse range of Government and Non-Government services in South Australia, Thailand, and more recently in the North West Region in Victoria.
Andi has experience in the areas of Community Mental Health, Adult, Children and Family Services, Paediatric and Adolescent Allied Health Therapy, International Community Development, HIV/AIDS support services and services for Culturally and Linguistically Diverse Communities. Andi has also worked in the tertiary education sector in South Australia, where he continues to hold the position of Adjunct Clinical Associate for the Division of Health Science, University of South Australia. Andi has also taught both undergraduate and post graduate courses in the nursing and mental health.
Andi has established contemporary clinical service models and clinical pathways in his roles, designed to improve service quality and outcomes for children and families in the North West of Melbourne. He also currently holds positions on the RMIT Human Research Ethics Committee as the Allied Health Care professional member, and Board Member of the Footscray Community Arts Centre.
Services offered
Our student-led health & wellbeing clinics provide you with the services you need to improve your performance in sport, work and everyday life. Services include clinical exercise & rehabilitation, dermal therapies, massage, nutrition, osteopathy and psychology.
At the Wyndam clinic, the interprofessional services we provide are:
Consumer collaboration
The Interprofessional Clinic supports partnerships between consumers and health professionals. Consumer consultation and participation ensures ongoing continuous improvement and safety of services while contributing to positive individual and community health outcomes.
Consumer partnership involves clients and carers participating in decision-making about their own care while being involved in the ongoing planning design, delivery and evaluation of the Clinic's health services.
If you are a consumer and/or carer of health and community services and would like to share your experience and assist in the development of the Interprofessional Clinic's systems and processes please email the Clinical Director at andi.jones@vu.edu.au.
Interprofessional pods
The built pedagogy of the Interprofessional Clinic is designed around the interprofessional (IP) pods.
Each pod includes a client assessment/debrief room and Interprofessional health team room for around 8 students from different disciplines under the supervision of qualified health practitioners.
The aim of the IP teams is to provide seamless care across health discipline areas as determined by the needs of and in consultation with the clients.
In addition to the unique IP pods, interprofessional practice at the clinic will be extended through a range of spaces, including a commercial kitchen for teaching and community use, consultation and treatment rooms, videoconferencing and meeting rooms, amenities and change rooms, as well as an exercise assessment and rehabilitation area.
Technology within the clinic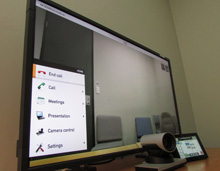 Audio and Video (AV) technology, electronic storage and clinic software are the three main components of technology that will be implemented at the clinic. These three components are required to integrate with each other and work in harmony to deliver the expected benefits.
There are many purpose built spaces within the clinic and AV technology like Video Conferencing (VC) and AV recording are implemented in varying degrees in these spaces as appropriate. The AV technology within the clinic is expected to enable any VU campus to electronically connect with the clinic and facilitate knowledge sharing and collaborative learning.
In order to facilitate teaching and learning, audio and video of most of the assessment and treatment sessions within the clinic may be recorded electronically. Electronic storage will be used to securely store these recordings in a centralised location on the VU's network. Having the recordings stored onsite allows VU to exercise greater control and security over the content and greater flexibility to adhere to state and federal laws relating to privacy and confidentiality.
Clinic software includes client/patient health records management, client/patient appointments and billing. Similar to a typical general practice, the clinic will also use these three types of software systems to assist with day-to-day clinic management. Providing a streamlined and efficient client/ patient experience in the clinic is seen as paramount for ensuring client/ patient safety and the success of the clinic.