Overview
Gain expertise in the complexities of global business, with a Master of International Business.
Our international-business masters is designed for graduates who wish to set up and manage global enterprises, or take their business career internationally.
With a strong focus on China and the Asia-Pacific region, some units are delivered by visiting academics from the Victoria Business Confucius Institute.
You'll develop knowledge in business principles with an international focus, with high-level skills in:
research
critical thinking and problem-solving
communication
cross-cultural competency. 
You will graduate with a solid and practical understanding of:
contemporary global issues
international business strategy
international economics and finance
sustainable development
trading across borders.
Victoria University's business college provides networks and guidance from the business community.
We have well-established industry connections, and host expos where can network with business leaders and managers.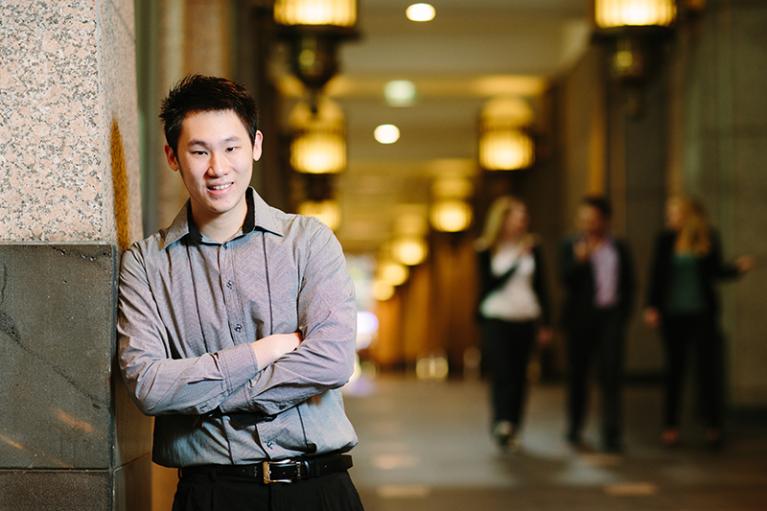 Careers
Business graduates find employment in dynamic middle to senior management roles across finance, marketing, trade and tourism, both in Australia and overseas.
Your expertise in international trade will make you in-demand in businesses and the public sector, particularly in organisations trading in the Asia-Pacific region.
You'll be qualified for a career as one of the following:
export and import agent/manager
joint venture/international merger project manager 
international business development manager/consultant
CSR (corporate social responsibility) manager
sustainable business manager/consultant
international licensing/franchising manager.
Salaries
The Australian national public site, Job Outlook, has these averaged salaries:
finance managers earn around $100,000 (Job Outlook)
financial investment managers earn around $90,000 (Job Outlook).
Course structure
To attain the awards, Master of International Business, students will be required to complete 144 credit points consisting of:
24 credit points College Core units
84 credit points Professional Core units
36 credit points Research Option 1 or Option 2
RESEARCH OPTION 1
12 credit points business research project; and, 
24 credit points elective units. Students to select units from any College of Business Post Graduate Course (subject to availability). Please check any pre-requisite requirements prior to enrolling.
RESEARCH OPTION 2
12 credit points business research proposal; and, 
24 credit points business research thesis.
Unit code

BMO5501

Credits

12

Unit code

BMO6630

Credits

12
Unit code

BAO5573

Credits

12

Unit code

BEO5305

Credits

12

Unit code

BMI7000

Credits

12

Unit code

BMI7003

Credits

12

Unit code

BMO5572

Credits

12

Unit code

BMO6511

Credits

12

Unit code

BTD7004

Credits

12
Unit code

BGP7730

Credits

12
24 credit points Elective units. Students to select units from any College of Business Post Graduate Course (subject to availability). Please check any pre-requisite requirements prior to enrolling.
Or
Unit code

BGP7711

Credits

12

Unit code

BGP7712

Credits

24
On successful completion of this course, students will be able to:
| | | | |
| --- | --- | --- | --- |
|   | 1. | Critically reflect upon theoretical approaches and analyse their application to the management of international business contexts; |   |
|   | 2. | Interpret theoretical propositions and related bodies of knowledge to resolve business problems and recommend actions relevant to international business settings; |   |
|   | 3. | Adapt cross-disciplinary knowledge in making creative decisions, with consideration to cross-cultural contexts, for new business opportunities; |   |
|   | 4. | Work effectively autonomously and in a team demonstrating accountability, collaboration and innovative strategic thinking as relevant to global business settings; |   |
|   | 5. | Communicate effectively to specialist and non-specialist audiences in a wide range of international business contexts; |   |
|   | 6. | Exemplify initiative and inspirational leadership in a dynamic 21st century work environment, acting consistently, ethically and socially responsibly; and, |   |
|   | 7. | Plan and execute a substantial research based project or evidence-based capstone experience to analyse the international business environment and generate new recommendations or knowledge for business strategies. |   |
What's a unit?
A unit or 'subject' is the actual class you'll attend in the process of completing a course.
Most courses have a mixture of compulsory 'core' units that you need to take and optional elective units that you can choose to take based on your area of interest, expertise or experience.
Credits
Each unit is worth a set amount of study credits based on the amount of time you study. Generally, 1 credit is equal to 1 hour of study per week.
Fees & scholarships
Fee type: Full-fee
The amount you pay for your course depends on whether you're a Commonwealth supported student or full-fee paying.
If you enrol in a:
To calculate the total cost of your course:
Select which units you'd like to study.
Look up the individual unit costs in the higher education unit of study fees list.
Add up the relevant amounts.
Scholarships & assistance
Apply for a scholarship to help with your study costs.
We can help with fee assistance and advice.
Admission & pathways
Meeting the minimum admission requirements does not guarantee you entry into this course.
Some courses receive more applications than the number of places available. In this situation we will also assess your education, work and other relevant experience.
If you do not meet the minimum requirements you may be eligible for one of our special admission programs. We also encourage you to explore our study pathways to help you reach your goal.
Entry requirements
Completion of an Australian Bachelor degree (or equivalent) in a similar discipline
OR
Completion of an Australian Graduate Certificate (or equivalent) in a similar discipline
OR
Applicants without an undergraduate qualification may be admitted to the Graduate Certificate (in the same discipline) based on approved work experience. Upon completion of the Graduate Certificate, graduates will be eligible for admission to this course with credit granted for completed units.
There are many ways you can start your education journey at VU. Pathways offer an easy transition between courses at different levels, so that you can start with a certificate and progress right through to postgraduate study.
Find out more about pathways and credits.
If you have completed study with another university or institution and believe you are eligible to receive credit for skills and past study, you can apply for advanced standing.
Applications for advanced standing can be made after a discussion with your course coordinator or academic adviser.
How to apply
Applications for this course are not being taken at this time.
Browse our other Business courses or send us an enquiry to be notified of updates relating to this course.
Enquire now
Please fill out the form below, and we'll get back to you shortly.

Information marked with an asterisk

*

is required.
At Victoria University, we aim to display accurate and complete course information online. However, we are unable to guarantee that every course change is currently displayed. You may contact the University directly on +61 3 9919 6100 to confirm the most up-to-date course fees, pathways and credit transfer, recognition of prior learning, admission and enrolment procedures, examinations and services available to our students.