Overview
Become a leading researcher and contribute positive changes to health care, health policy, and our communities through your PhD in Nursing & Midwifery.
PhD in Nursing & Midwifery at VU
Studying towards a doctoral degree in nursing and midwifery lets you explore, in-depth, an area that interests you. You'll learn best-practice research methods, and complete an original thesis at the forefront of its field.
In the Excellence in Research for Australia (ERA) assessment, our nursing research was ranked 'well above' world standard. We support PhD research in the community, clinical practice, education and policy. We have connections with community, medical and government organisations – for real-world research opportunities.
You'll graduate with the high-level skills to collect and analyse evidence. You'll learn to present your findings clearly and effectively – in your thesis, journals and public presentations. Career opportunities include working in healthcare management, academia, government or community settings.
Your PhD in nursing and midwifery will be part of a collaborative research community, with several interdisciplinary research focus areas.
Our healthy populations research programs give you a wide selection of nursing and midwifery study topics. Nursing academics offer expert guidance in these areas:
chronic disease prevention and management
health policy in Australia
clinical and community health
lifestyle diseases.
We offer fantastic opportunities through our research institutes and collaborations with healthcare and community organisations.
The Institute of Health & Sport incorporates and builds upon some of the research undertaken at VU by:
Our Western Centre for Health Research and Education (Western CHRE) is an innovative research precinct in western Melbourne. Its state-of-the art teaching and research facilities include:
auditorium, lecture theatre and tutorial teaching spaces
learning commons
simulation area with operating theatre, intensive care unit, four-bed ward
There are also clinical trials area with:
consulting rooms
gait and balance gym
falls and fracture clinic
bone and muscle imaging (DXA and pQCT)
metabolic testing.
VU supports our PhD students with international industry contacts, research collaborations and a Dean's lecture series by leaders in the health profession.
Our nursing and midwifery students study at St Albans campus. It's a relaxed, friendly place, with a children's centre, a gym, award-winning architecture, and lovely grounds.
We offer various research scholarships for our PhD students. Victoria University has several generous research scholarships for successful applicants. There are also externally funded scholarships from dozens of organisations, some of which are aimed at postgraduate students.
Our research centre enables world-class nursing and midwifery research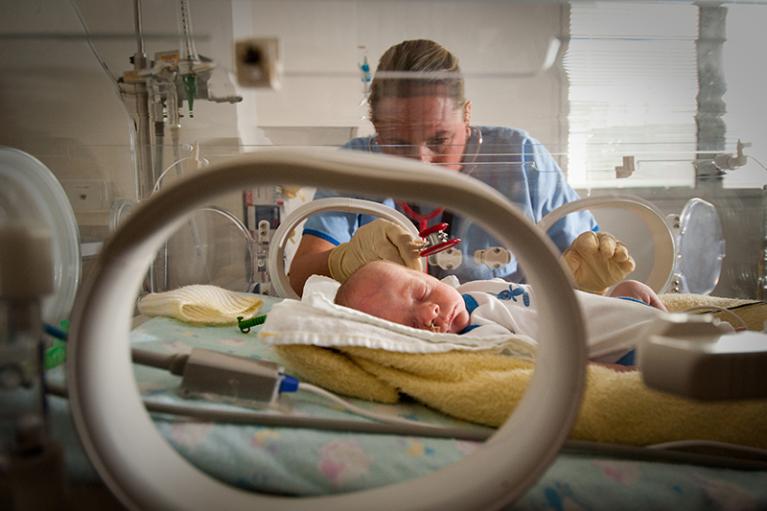 VU's hospital partnerships allow for real-world research opportunities
Careers in nursing and midwifery practice and policy
Following your PhD, you'll be ready for a management or research career in health care, government or community, or to become an academic. There are currently large demands for nurse educators and managers (HealthTimes).
Possible job titles following this PhD include:
nursing manager
nursing educator
clinical nurse specialist
lecturer
policy adviser.
The following are average salaries from the government site, Job Outlook:
policy and planning managers, A$122,500 (JobOutlook)
university lecturers, over A$100,000 (JobOutlook).
Course structure
The PhD is a research based degree with a maximum duration of 4 years (full time) and 8 years (part time).
As well as enrolling in Research Thesis units Doctor of Philosophy (Science) students will be required to complete two coursework units, ROP8001 and ROP8002.
An average result of 70% is required in the compulsory coursework units in order to proceed to candidature confirmation. Ongoing progression is subject to policy and procedures for candidature management as per the VU HDR Policy.
Unit code

ROP8001

Unit code

ROP8002
Unit code

HNM8900

Credits

48

Unit code

HNM8901

Credits

24
On successful completion of this course, students will be able to:
| | | | |
| --- | --- | --- | --- |
|   | 1. | expert understanding of a substantial body of theory and its practical application at the frontier of a field of work or learning, including substantial expert knowledge of ethical research principles and methods applicable to the field. |   |
|   | 2. | intellectual independence and cognitive skills to undertake a systematic investigation, reflect critically on theory and practice and evaluate existing knowledge and ideas, including identifying, evaluating and critically analysing the validity of research studies and their applicability to a research problem. |   |
|   | 3. | expert cognitive, technical and creative skills to: design, develop and implement a research project/s to systematically investigate a research problem; develop, adapt and implement research methodologies to extend and redefine existing knowledge; manage, analyse, evaluate and interpret data, synthesising key ideas and theorising within the context of key literature. |   |
|   | 4. | expert communication skills to explain and critique theoretical propositions, methodologies and conclusions; to disseminate and promote new insights; and to cogently present a complex investigation of originality, or original research, both for external examination and to specialist (eg researcher peers) and non-specialist (industry and/or community) audiences through informal interaction, scholarly publications, reports and formal presentations. |   |
|   | 5. | capacity to reflect on, develop and evaluate strategies for achieving their own learning and career goals. |   |
|   | 6. | intellectual independence, initiative and creativity in new situations and/or for further learning. |   |
|   | 7. | ethical practice and full responsibility and accountability for personal outputs. |   |
|   | 8. | autonomy, authoritative judgement, adaptability and responsibility as an expert and independent scholar. |   |
What's a unit?
A unit or 'subject' is the actual class you'll attend in the process of completing a course.
Most courses have a mixture of compulsory 'core' units that you need to take and optional elective units that you can choose to take based on your area of interest, expertise or experience.
Credits
Each unit is worth a set amount of study credits based on the amount of time you study. Generally, 1 credit is equal to 1 hour of study per week.
Admission & pathways
Meeting the minimum admission requirements does not guarantee you entry into this course.
Some courses receive more applications than the number of places available. In this situation we will also assess your education, work and other relevant experience.
If you do not meet the minimum requirements you may be eligible for one of our special admission programs. We also encourage you to explore our study pathways to help you reach your goal.
Entry requirements
Completed a relevant Masters degree or four year undergraduate degree with Honours or its equivalent at a high standard.
There are many ways you can start your education journey at VU. Pathways offer an easy transition between courses at different levels, so that you can start with a certificate and progress right through to postgraduate study.
Find out more about pathways and credits.
If you have completed study with another university or institution and believe you are eligible to receive credit for skills and past study, you can apply for advanced standing.
Applications for advanced standing can be made after a discussion with your course coordinator or academic adviser.
Enquire now
Please fill out the form below, and we'll get back to you shortly.

Information marked with an asterisk

*

is required.
Contact the Office for Researcher Training, Quality & Integrity
At Victoria University, we aim to display accurate and complete course information online. However, we are unable to guarantee that every course change is currently displayed. You may contact the University directly on +61 3 9919 6100 to confirm the most up-to-date course fees, pathways and credit transfer, recognition of prior learning, admission and enrolment procedures, examinations and services available to our students.