Our range of platter-style catering options are perfect for networking events.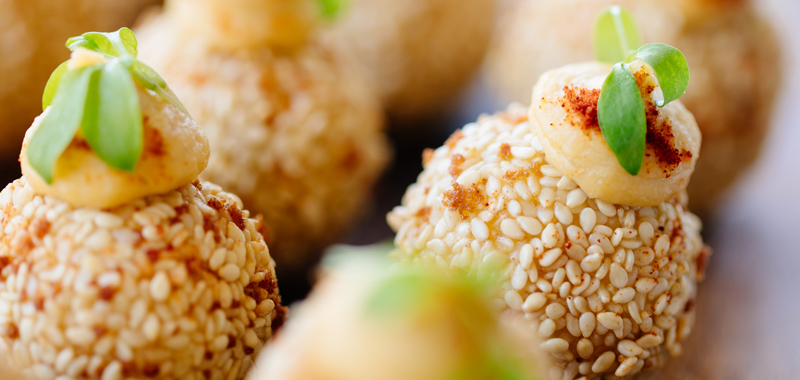 Sandwiches, rolls & wraps
$9.80 per serve.
Choose a selection of:
point sandwiches
pita wraps
mini gourmet rolls
Turkish bread.
Depending on group size, our chef will provide an appropriate selection of different sandwiches. This selection will include variations of bread and filling, and will be approximately 30% vegetarian.
Finger food platters
Platter selection (25 pieces per platter) – $65
spiced lamb kofta skewers with tzatziki (gluten free)
Malay chicken skewers with roasted peanut sauce (gluten free)
assorted gourmet pies with flaky pastry (chicken & leek, Moroccan lamb, King Island beef)
housemade arrancini balls (parmesan, pesto; pumpkin & fetta, mushroom)
chicken goujons served with a honey soy dipping sauce
frittata squares (smoked salmon & brie or vegetarian)
spinach and ricotta filo pastries (vegetarian)
grilled haloumi with pickled zucchini and balsamic glaze (vegetarian) (gluten free)
semi-dried tomatoes with pickled zucchini and balsamic glaze (vegan) (gluten free)
lentil sausage rolls with tomato relish (vegetarian)
Lamb and rosemary sausage rolls
Spanakopita
nachos with salsa, sour cream and Monterey jack cheese (v)
Grazing platters
platter
Small
Medium
Large

Gourmet antipasto platter
Cold meats and chargrilled vegetables served with toasted flat bread and dips

$116
$205
$290
Cheese platter
Cheese / dried fruit, nuts etc
$95
$145
$205
Crudites
Fresh seasonal vegetables with assorted dipping sauces
$95
$145
$205
Dessert platter
Chef's choice of 4 housemade items
$73
$115
$170
Fruit platter
Freshly sliced seasonal fruit platter
$52
$80
$115
Coffee, tea & beverages
Filtered coffee and Lipton teas per person $3.70
Orange juice or mineral water per jug $14.00