Victoria University has consolidated its research activity. From 2018 research of the Centre for Chronic Disease Prevention and Management (Centre for Chronic Disease or CCDPM / CCD) is located within the Institute for Sport, Health & Active Living.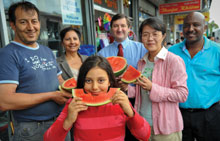 Victoria University is the only university located in Melbourne's west, where there is a high prevalence of chronic diseases, including:
cardiovascular diseases
cancer
diabetes
obesity
mental illness.
Many residents from this region come from culturally and linguistically diverse communities and are at greater risk of developing chronic disease. A high proportion of the population is also affected by low socio-economic standing.
The Centre for Chronic Disease Prevention and Management is well positioned to address the critical need for research, action and intervention to prevent and manage these pervasive diseases.
The University has strong and long-held links with communities and organisations in Melbourne's west, increasing its ability to study and translate fundamental and applied research into clinically relevant interventions and meaningful policy.
A 'living laboratory', the Centre works with and educates the wider community about lifestyle-associated diseases that can lead to reduced life quality and lowered life expectancy, resulting in better clinical and community health outcomes.