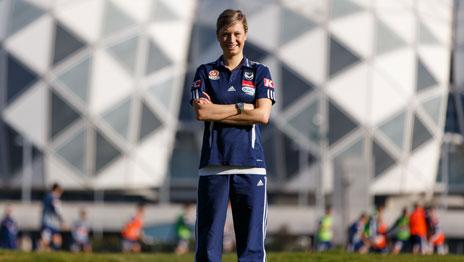 Melbourne Victory Football Club's convincing win in the A-league's recent grand final was supported by a 26-year-old Victoria University PhD student, the club's sole sport scientist.
Amber Rowell has helped the team fine-tune its skills since she began working there as an undergraduate sport science cadet in 2009.
One of the few female head sport scientists in professional sport, Amber's performance training program has supported Melbourne Victory to becomes one of the most successful Australian sports clubs.
Since it was established in 2004, it has won two championships and two premierships.
Amber's roles include designing and analysing performance data for all players, advising coaching and conditioning staff, and providing sport science workshops for the team.
She has been using her PhD research on the impact of training and competition on fatigue, performance and injury to predict each athlete's ultimate range of capabilities.
A passionate soccer fan from a young age, Amber says it's a dream come true to work with Melbourne Victory.
Amber's PhD supervisor is physiologist and Associate Professor Robert Aughey from VU's College of Sport and Exercise Science. He says Melbourne Victory's current sport science program would be the envy of many professional football teams globally.
"Amber's success is a fantastic example of the opportunities VU can offer to work with elite sports clubs," he said.
"Of course, we merely open the doors—it takes a person of Amber's quality to grasp the opportunity and enable it to blossom."