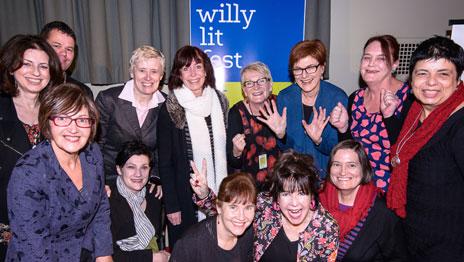 VU staff and students are strongly represented at the 2015 Williamstown Literary Festival as judges, workshop presenters, panellists, volunteers and writing contestants.
This is the ninth year Victoria University has been a major sponsor of the festival, a showcase of Australia's best authors, poets, comedians, editors and actors in workshops and panel discussions.
Established in 2003, the festival is now the biggest literary event in Melbourne's west.
It will be held on Saturday 13 June and Sunday 14 June at the Williamstown Town Hall and Library.
VU College of Arts Dean Professor Bronwyn Cran said the Williamstown Literary Festival is an important cultural event for Melbourne and a good fit with many VU activities.
Several VU writing teachers contribute to panel discussions and provide writing workshops for festival-goers.
VU public relations and professional writing students help short-list entrants for the Ada Cambridge biographical writing award.
VU panel discussion contributors include:
Rob Pascoe – College of Arts Dean Laureate - interviewing political journalist Barrie Cassidy
Sherryl Clark –TAFE Professional writing and editing lecturer - book research
Lucia Nardo –TAFE professional writing and editing lecturer- writers' block
Enza Gandolfo – College of Arts creative writing lecturer - Swimming in ink - writing about the sea
Alison Whan – Offset (VU creative arts journal) director - writing for journals
Matthew Naqvi – VU professional writing graduate - building writing output.