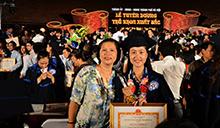 VU this year celebrated the 15th anniversary of its transnational education partnership with Hanoi University (HANU). The celebration took place at a graduation ceremony at the Temple of Literature: the first university in Vietnam and one of the first in the world.
Held on the 20 September 2014, close to 120 Master of Teaching English to Speakers of other Language (TESOL) students also graduated on the day.
The ceremony was marked by motivating speeches from distinguished guests including the Honourable Hugh Borrowman, Australia's Ambassador to Vietnam, VU's Deputy Vice Chancellor, Professor Duncan Bentley and Professor Dr Nguyen Dinh Luan, the President of HANU and a longtime supporter of the VU-HANU partnership. Dr Martin Andrew, the Master of TESOL's Academic Program Coordinator, and staff from VU International also attended the historical ceremony.
Ms Hoang Thu Hang, representing VU Alumni and a member of the first Master of TESOL cohort, spoke at the ceremony about the courses impact on Vietnamese English teachers.
"English teachers act as a bridge connecting our people with advanced knowledge and advanced technology." Ms Hoang Thu Hang said.
Responding to globalisation and the initiatives of Vietnam's Ministry of Education and Training (MOET), the Master of TESOL course has evolved considerably during its 15 years.
Since the partnership began in 1999 , more than 1500 Hanoi University students have graduated with VU Masters of TESOL, which is delivered in both Hanoi and Ho Chi Minh City.
The '2020 Project' aims to improve and standardise the English skills of Vietnamese teachers and lecturers. Under the project, MOET aims to boost the nation's "industrialisation and modernisation" by strengthening English as a foreign language within Vietnam by 2020.
The program's success is due to its practicality and the transferability of its educative content to students' working environments.
Master of TESOL students are all teaching practitioners – primary, secondary and tertiary – and all bring to the course's teaching and learning experience an element of practitioner experience and institutional knowledge of their individual contexts.
The hands-on nature of the teaching and learning enables students to become a practitioner-researcher in their own classrooms and working environments. Subsequently they can then become leaders in their own workplaces.
VU and HANU have also signed a new 10 year agreement which will provide the opportunity for many more students to improve their English teaching practice.