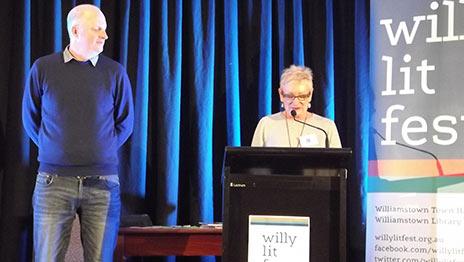 VU's recent involvement in the 2015 Williamstown Literary Festival was hugely successful, with one of our students winning an award, several of our staff running workshops, and much more!
Adam Deverell, who is currently studying Certificate IV in Professional Writing & Editing online at VU, won the The Ada Cambridge Biographical Prose Prize, a huge honour. He proudly let everyone know he's a VU student.
Several of our staff ran workshops:
Sherryl Clark ran a session called Research for your book
Sherryl Clark, Tracey Rolfe, Michael Kitson and Lucia Nardo ran a VU taster - four short writing workshops
Lucia Nardo ran her now-famous treasure mapping workshop.
VU also had two tables in the Hub with with course information and writing/reading resources. The VE/TAFE table received a number of course enquiries, gave away copies of Platform magazine and gathered more email addresses from people interested in our In Conversation events. The higher education table also saw a lot of enquiries and interest.
We are also seeing a great response to our In Conversation events. In conversation with... John Silvester was a sell-out and In conversation with... Andy Griffiths was very popular with local teachers and VU Education students, as well as our regulars. The bookshop also sold out of Andy's books!
Our next event is Stereo Stories on Thursday 30 July at 7pm at the VU Bar. Judging by its popularity at the Willy Litfest, this one is very likely to be a sell-out, too.