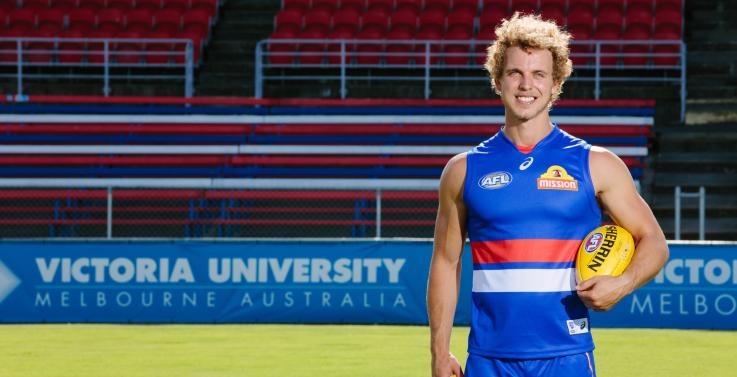 VU student Mitch Wallis will play his 100th AFL game tonight, Friday 7 July, when the Western Bulldogs play Adelaide Crows at Adelaide Oval.
Mitch debuted in 2011 at the age of 24 after being recruited under the father-son rule. His father, Steve Wallis, is a former Bulldogs captain and a Victoria University Alumnus.
Mitch had participated in a number of academies and played at local league level, and was a true professional from the very first day he walked into the kennel. On his debut, his first-ever goal in AFL sealed the game for the Western Bulldogs to get their first victory of the 2012 season.
Injury & recovery
Mitch was showing all the signs of maturity and skill in season 2016, before injury saw him sidelined from Round 18. Mitch's resilience, hard work and commitment saw him re-join his teammates this year where he has been a driving force behind the team's success.
"All milestones are special, but this one is extra special for the boys and the club because we know how hard he [Mitch Wallis] has worked to get here. He does everything with purpose, he loves the club, his teammates and deserves all the accolades he gets."
Captain Bob Murphy
Balancing footy with study at VU 
Mitch balances his footy with study, currently completing a Bachelor of Business. Mitch says, "I'm looking to VU to help me set up for life after footy. For now, footy is my full-time job so I study part-time in the evenings. Studying is a great release from football."
Over the past five years, Mitch has also been a wonderful VU ambassador, attending events including the annual Sport Dinner, Open Day and secondary-school visits.
From all the VU Community, we wish Mitch a fabulous 100th game and all the best for the rest of the season.