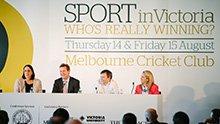 On the 14 and 15 August, Victoria University, in partnership with The Age, Committee for Melbourne and conference sponsor Melbourne Chamber of Commerce, hosted the third in our series of State of Victoria conferences entitled Sport in Victoria – Who's Really Winning?
On both days we had well over 200 attendees come to hear industry experts discuss the current impact that sport has in Victoria and how it affects other areas such as tourism, the economy and the local community.
A range of hot button topics were discussed included the possibility of Melbourne bidding for the Olympic Games, the intersection between major events, elite sport and community participation and given the continuation of the Essendon, AFL and ASADA legal case, the increasing battle with science, ethics and drugs in sport was also canvassed by figures central to the issue.
The conference was officially opened on Thursday evening by The Honourable Damian Drum, Victorian Minister for Sport and Recreation, and debate and discussion was undertaken with a number of high profile speakers including:
Kate Roffey, Chief Executive Officer, Committee for Melbourne
John Bertrand, Chairman, Sport Australia Hall of Fame and President, Swimming Australia
Kate Palmer, Chief Executive Officer, Netball Australia and Chair, Victorian Institute of Sport
Andrew Westacott, Chief Executive Officer, Australian Grand Prix Corporation
John O'Sullivan, Managing Director, Tourism Australia
John Wylie AM, Chair, Australian Sports Commission
Caroline Wilson, Chief Football Writer, The Age
David Grace QC, President, Athletics Australia
Richard Ings, Former Chair and Chief Executive Officer, ASADA
Peter Gordon, President, Western Bulldogs
Nicole Livingstone, Chief Executive Officer, Melbourne Vicentre Swimming Club
Professor Hans Westerbeek, Dean, College of Sport and Exercise Science, Victoria University.
In addition, the event gained significant media attention, including trending in the top ten on Twitter (#sportinvic). This event continues to position Victoria University as Australia's Sport University, building on the momentum of the Integrity in Sport Forum co-hosted with the Sport Australia Hall of Fame earlier in the year.
As Australia's Sport University, we will continue to engage with business leaders, sports administrators, elite athletes, government officials and leading academics to discuss and debate the future of sport in Victoria, Australia and beyond.
Recordings & transcripts
All sessions at the conference were recorded and are now available as mp3 recordings with transcripts - contact the organiser for more details.