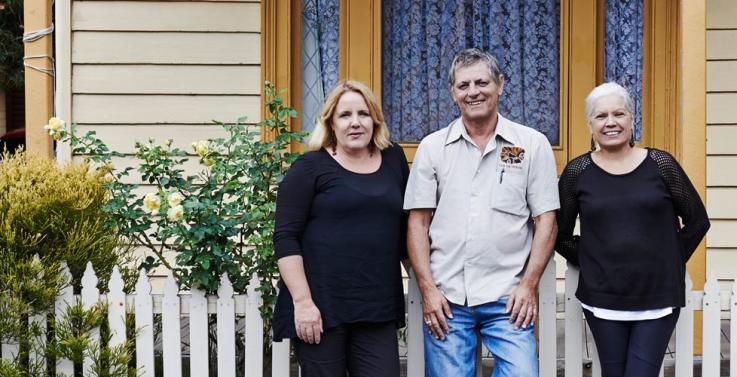 Researchers are highlighting the social and political legacy from generations of Aboriginal people in Melbourne's west.
The team from Moondani Balluk Indigenous academic unit and the Sir Zelman Cowen Centre are researching histories of significant Indigenous people and places from Melbourne's western suburbs to create a new website and online resources.
Lead researcher Dr Carolyn Woodley said the Bonmarart Leewik project – meaning 'Strong Ancestors' in the Woiwurrung language – highlighted the area's significant cultural heritage as it was being threatened by rapid development and change.
"We can't protect cultural heritage if people don't know about it and that's the same whether it's a burial site or midden in Ballarat or an old weatherboard house in Footscray," Dr Woodley said.
"So this is about making people see things from another perspective and appreciate the cultural significance of what's right there in front of them."
The research project focuses on around 10 significant sites and more than a dozen important figures who lived and worked in Footscray and surrounding suburbs.
These include William Cooper, who campaigned tirelessly for his people's rights; Marg Tucker, who, along with William Cooper, founded the Australian Aborigines' League; opera singer, teacher and rights campaigner Harold Blair; and Mollie Dyer who advocated for Aboriginal children while fostering 20 children herself and helping establish the Victorian Aboriginal Child Care Agency.
The project has revealed how several of these local histories have regional, national and even international significance. William Cooper, for example, is highly regarded by many in Israel for leading a 1938 march from Footscray to the German Consulate in central Melbourne protesting the persecution of Jews in Nazi Germany. The International Institute for Holocaust Research in Jerusalem honours his memory with a Chair for the Study of Resistance during the Holocaust.
Research into archival material and interviews to uncover lesser-known histories has now been presented on the Bonmarart Leewik website, with other teaching materials to follow.
Indigenous educator, Stewart Taylor, said compiling these stories gave a strong impression of how prolific and influential the local Aboriginal community has been.
"The struggles of those people who were not even recognised as citizens in their own country were immense," Mr Taylor said. "But what they achieved despite that has inspired a lot of people to continue those struggles."
Moondani Balluk Director, Karen Jackson, said the project's significance lay in presenting fragmented and sometimes undervalued knowledge in a way all community members could value and share.
"Much of this knowledge already exists in Aboriginal communities, where family and community connections with these events continue to this day. But for the wider community many of these stories represent new knowledge and important connections to Melbourne's west that need to be made," she said.
This project was funded through a federal government Your Community Grant and features in the new Research Highlights publication.