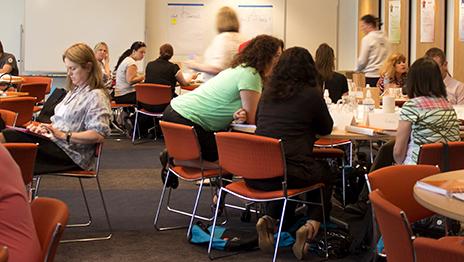 The 2013 AVID Summer Institute, hosted by VU, was again a success with over 300 educators in Melbourne from across Australia, New Zealand and the USA in attendance.
AVID is a renowned university-readiness system, developed in the USA to equip low SES and under-achieving students with the academic, social and emotional skills to access and complete a university education.
The Victoria Institute, supported by HEPPP funding is leading the implementation of this program in Australia. The annual Summer Institute is a crucial part of AVID Australia's professional learning program. It places the educator as a learner in an intensive three-day immersion model of practical and engaging workshops on explicit teaching skills and activities.
Claire Brown, Associate Director, The Victoria Institute says that the success of the AVID Summer Institute shows how effective this program can be in improving the educational outcomes of students from diverse and disadvantaged backgrounds.
"Every year, we have an overwhelmingly positive response from educators who attend the Summer Institute. Teachers value AVID's powerful combination of teaching strategies and how it prepares them more effectively to support the learning of their students so they thrive academically and socially in the classroom."
Day one gave attendants the chance to hear from a panel of four students aged between 11 and 16 who've experienced the AVID system, first hand. Claire said everyone was impressed with their composure when faced with an audience of nearly 400 teachers as well as the maturity of their answers.
"To face an audience of 400 educators is a daunting task for any adult, but these students dealt extremely well with it. You could see that these students are developing greater confidence in their own abilities to advocate for themselves as learners."
"AVID strives to improve the educational outcomes of students but it also strengthens their organisational, emotional and social skills. This holistic approach is central to this program's success."
AVID was developed over 30 year ago in the USA and has noticeably improved the educational outcomes of millions of students in America. There are currently over 700,000 AVID students in the USA.
The AVID Australia program has received significant interest from surrounding countries such as New Zeeland, Indonesia and Singapore.
Claire believes that the AVID Australia project could become an AVID Australasia initiative.
"The interest and uptake of the program around the world serves as a testimony to AVID's strengths."
"Our research is exploring how Australian schools using AVID are seeing significant improvements in students' educational outcomes. It appears that AVID can be adapted to any classroom setting around the globe."
Read more about AVID Australia. Look out for further content over the following weeks, as we explore AVID and the Summer Institute in depth.