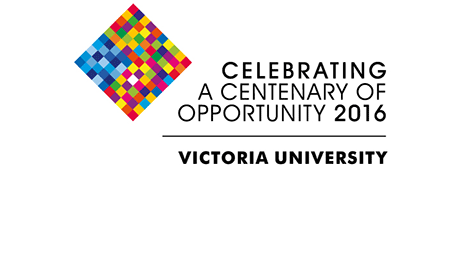 In 2016 Victoria University will officially celebrate the founding of our predecessor, Footscray Technical School, in 1916. This significant milestone marks 100 years of delivering high quality, accessible education in the west of Melbourne.
To capture the importance of this occasion, we have developed a symbol that conveys:
our remarkable history
qualities which have made us special to thousands of students, educators, researchers and partners though our many incarnations.
The Centenary logo
The Centenary logo was carefully crafted to pay tribute to Victoria University's colourful history. The logo:
builds on the form of VU's now well-known diamond
incorporates the white diamond of the individual
is made up of 100 bright, multi-coloured diamonds, each representing one year of history from the founding of Footscray Technical School and its subsequent development into Victoria University.
contains 25 blue diamonds, representing the 25th anniversary of VU's establishment as a university.
The logo can be perceived as a mosaic or patchwork quilt, representing VU's many communities of students with their diverse backgrounds and rich cultures. It can also represent the many industry partners VU connects to – locally, nationally and globally.
The statement 'Celebrating a Centenary of Opportunity' creates a link between Footscray Technical School's stated purpose to provide a Door of Opportunity and VU's vision today to be the University of Opportunity.
From the past
When the first Principal Charles Archibald Hoadley opened the doors to Footscray Technical School in March 1916, it was on the very site of VU's current Footscray Nicholson Campus.
One hundred years later, the School's direct descendant – Victoria University – continues to transform lives through education, building strong and vibrant communities in the process.
Find out more about our history.
To the present
Today, Victoria University is proud of its rich history. As the University of Opportunity, VU continues to play a broad role in helping students from diverse backgrounds find true success. And although VU is still young as a university, direct links to our much loved and respected predecessors give us a strong identity that we will carry forward into the future.
The year 2016 is the perfect time to embrace and celebrate our continuous transformation, and recognise our vision to become a great university of the 21st century.
Join us to celebrate our Centenary.