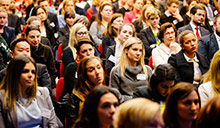 Established in 2010, the annual Michael Kirby Justice Oration provides a platform for leaders within our community to share their experiences, deep understanding, knowledge and reflections on issues of justice.
The Hon. Michael Kirby served on the High Court of Australia with great distinction for thirteen years (1996-2009). The annual Kirby orations pay tribute to his commitment to social justice and human rights and Kirby's relationship as friend, colleague and mentor to Victoria University's College of Law & Justice. He is an adjunct professor in the College.
2016 Oration: The Hon. Jeff Kennett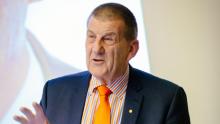 Speaking to a lecture theatre at Victoria University's College of Law and Justice, The Hon. Jeffrey Kennett posed the question "Is Australia's system of government best placed for the 22nd Century." 
The Hon. Jeff Kennett's lively oration addressed a number of key issues including:
generational unemployment
reforming tiers of government
the importance of strong leadership, and
addressing Australia's rising suicide figures.
The 40-minute oration was an opportunity for The Hon. Mr Kennett to reflect on career highlights and engage with issues that personally resonate with the former Victorian Premier and founder of beyondblue, the national depression and anxiety initiative.
Recording
Listen to an MP3 recording of The Hon. Jeff Kennett's Sixth Annual Michael Kirby Justice Oration.
2015 Oration: The Hon. Julia Gillard
Speaking to a full lecture theatre in the heart of Melbourne's legal precinct, The Hon. Julia Gillard tackled equality and challenges to reform in her address at the annual Michael Justice Kirby Oration.
Dr Gillard seized the opportunity to discuss marriage equality and modern challenges to good governance.
She said she had developed a sense of concern about the Abbott government's proposal to have a plebiscite or referendum on same sex marriage, and flagged potential long-term ramifications the proposal could have on democracy and Australia's future capacity to reform.
"I feel a responsibility to respectfully lay out a case for rejecting this idea of a plebiscite or referendum and, with your indulgence, I intend to do so this evening. 

"Indeed, given the important lessons Michael (Kirby) and his much loved partner Johan have taught our nation about bravery, honesty and inclusion, there could be no better occasion than tonight for me to make these remarks."
Recording & transcript
2014 Oration: Julian Burnside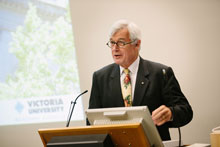 Internationally-renowned human rights and refugee advocate, Mr Julian Burnside AO QC presented the 4th Michael Kirby Justice Oration on refugee law and policy in Australia. His oration was entitled Unenlightened self-interest.
Addressing the large audience of Victoria University law students, University staff and industry guests, Mr Burnside said that a human being's basic urges of survival, comfort and justice are all drawn from self-interest.
But he said that 'enlightened' self-interest showed that mutual benefits can be obtained if you take the interests of other people into account, and that this can prevent injustice.
"It's a false calculation when someone else pays the price and you take the benefit," he said. "The idea that in a free country like Australia we can be persuaded of the rightness of allowing a person's rights to be trashed even though they are not allowed to know the evidence against them is deeply distressing."
Previous Michael Kirby Justice Orations
2013: The Hon. Justice Yvonne Murphy on church and state and the challenge of investigating child sexual abuse with religious organisations in Ireland
2011: Chief Magistrate, Ian Gray on sentencing and other controversial issues
2010: Michael Kirby on social justice and human rights